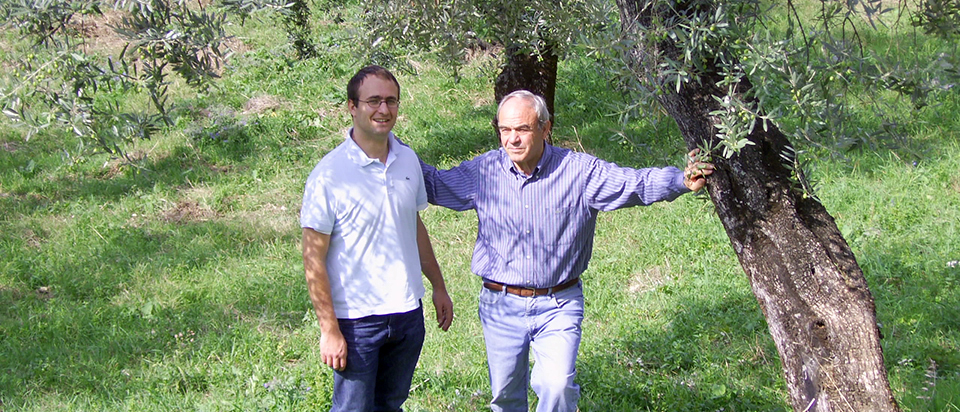 Paolo and his Dad, Agostino. 
Siamo una famiglia con origini Sabine che produce olio di oliva da piu di tre generazioni!
Ogni hanno produciamo una limitata quantità di olio extra vergine di oliva per la nostra famiglia e per un piccolo gruppo di amici. Coltivare gli uliveti da queste parti è soprattutto una passione ed una tradizione che va avanti da generazioni grazie ad un tessuto di piccole produzioni familiari. Per la macinatura delle olive e l'imbottigliamento ci affidiamo alla cooperativa di Scandriglia (www.oleificioscandriglia.it), di cui simao soci dalla sua nascita.
We are a family with Sabina origins that has been producing olive oil for more than three generations!


We have a limited family production for our own consumption, and a small group of friends. Growing and harvesting olives is a family tradition and passion in this part of the world, and every producer has a small group of friends that keep this type of production alive. As other small producers we are part of a local cooperative (www.oleificioscandriglia.it), where we share machinery for grinding and a small packaging plant.
Paolo and Emily are great people to work with. Not only is it nice to deal with friendly, helpful suppliers, their passion for the products is inspiring and means I know whatever I choose from them, it will be fantastic … people like Paolo and Emily are the bedrock of good eating and drinking in the city.
- Ewan McFarlane, owner and head chef at The Larder on Goosegate, Nottingham