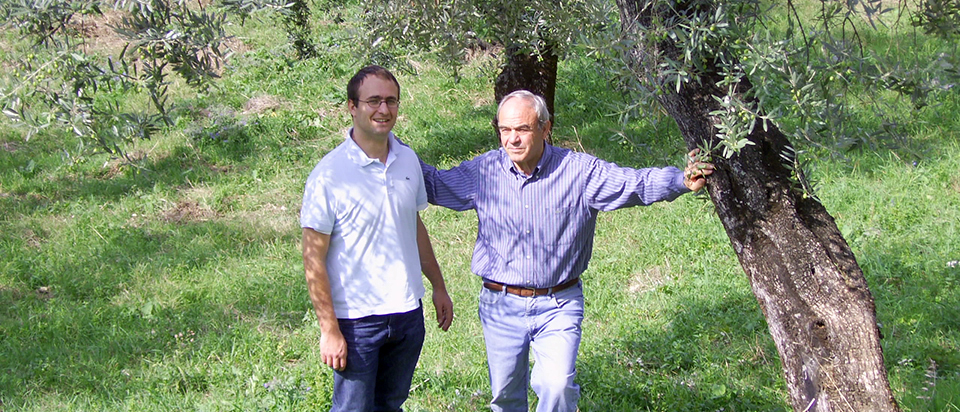 Paolo and his Dad, Agostino. 
Monti Sabini started after Paolo moved to England. He brought with him, amongst clothes and some other essential belongings, a bottle of olive oil produced in Sabina by his family. After noticing the appreciation that other people had for the oil, and realising that the Sabine hills are relatively unheard of outside of
Italy
, Paolo and his English girlfriend Emily decided to introduce
vorroni extra virgin olive oil
to restaurants around the country. The response was excellent. Since then, Monti Sabini has earned itself a loyal customer base, including renowned chefs such as Tom Aikens, Simon Radley and James Sommerin, as well as supplying a number of high quality delicatessens around the UK.
Monti Sabini also formed a relationship with  Alessandro Toni, a winemaker in the North of Sabina. Our Zigolo
merlot sangiovese
and
Zigolo malvasia trebbiano
joined the Monti Sabini family. 
Monti Sabini continues to supply its customers with high quality olive oil and wine, whilst ensuring the local producers in Sabina are fairly paid for their hard work and skill. This means that the olive oil estates and vineyards remain independent, and are able to pass along the artisanal secrets of production from generation to generation. 
Paolo and Emily are great people to work with. Not only is it nice to deal with friendly, helpful suppliers, their passion for the products is inspiring and means I know whatever I choose from them, it will be fantastic … people like Paolo and Emily are the bedrock of good eating and drinking in the city.
- Ewan McFarlane, owner and head chef at The Larder on Goosegate, Nottingham